Why Use A Senior Real Estate Specialist?
A Senior Real Estate Specialist (S.R.E.S.) is a REALTOR who is uniquely qualified to assist seniors in housing sales and purchases. The S.R.E.S. designation is awarded only to REALTORS who have additional education on how to help seniors and their families with later-in-life real estate transactions.
As an S.R.E.S., I have access to a network of related service professionals that covers a wide variety of senior's needs.
Some of these include:
Elder Law Attorneys
CPA's or Money Managers
Financial Planners (experts in pensions, retirement accounts)
Reverse Mortgage Lenders and Counselors
Estate Liquidators/Estate Sale Organizers
Tax Specialists
Insurance Agents
Title and Escrow Companies
Home Health Care Agencies
Meals on Wheels
Community Resources
Assisted Living Facilities
Property Solutions: Repairs, Housekeeping, Clutter Reduction, Landscapers, Painters, Handymen, etc.
My large network of professionals are here to assist you with everything you need to navigate the maze of financial, legal and emotional issues that are involved.
I became an S.R.E.S. because I enjoy interacting with seniors and helping others. I have knowledge, integrity, experience and compassion in dealing with senior issues. I do everything possible to alleviate the stress of selling a home and which ultimately leads to a successful transaction!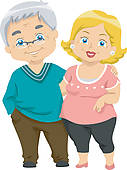 Please see what some of my clients say about me!!

"Once I met Madelyn, I felt as though I've known her forever. She was thoroughly prepared, professional and presented me with a fair price to sell my mother's home. She handled every detail as though it was her own. She guided me through the process and advised me in making decisions while I was in
my own home in Connecticut. She handled every detail, including meeting service people to maintain the home during the time it was listed, as I was not able to be present."
Jane Katzoff
3/05/17